RUNNIN' REBEL SEASON TICKETS
Season tickets are the best way to lock seats for Runnin' Rebel basketball. Season ticket holders receive exclusive benefits, the best price on tickets, and make a direct impact on the lives of our student-athletes through the Rebel Athletic Fund.
BENEFITS
Best price on tickets
Flexible payment plans
Rebel Athletic Fund membership
Personal account executive
Exclusive event and promotion invitations
Priority access to UNLV postseason tickets
SCHEDULE
The 2020-21 season will begin November 25. More information is coming soon!
FIND OUT MORE
Complete the form below and a member of the UNLV team will reach out with more information about Runnin' Rebel season tickets.
PREMIUM SEATING / COURTSIDE CLUB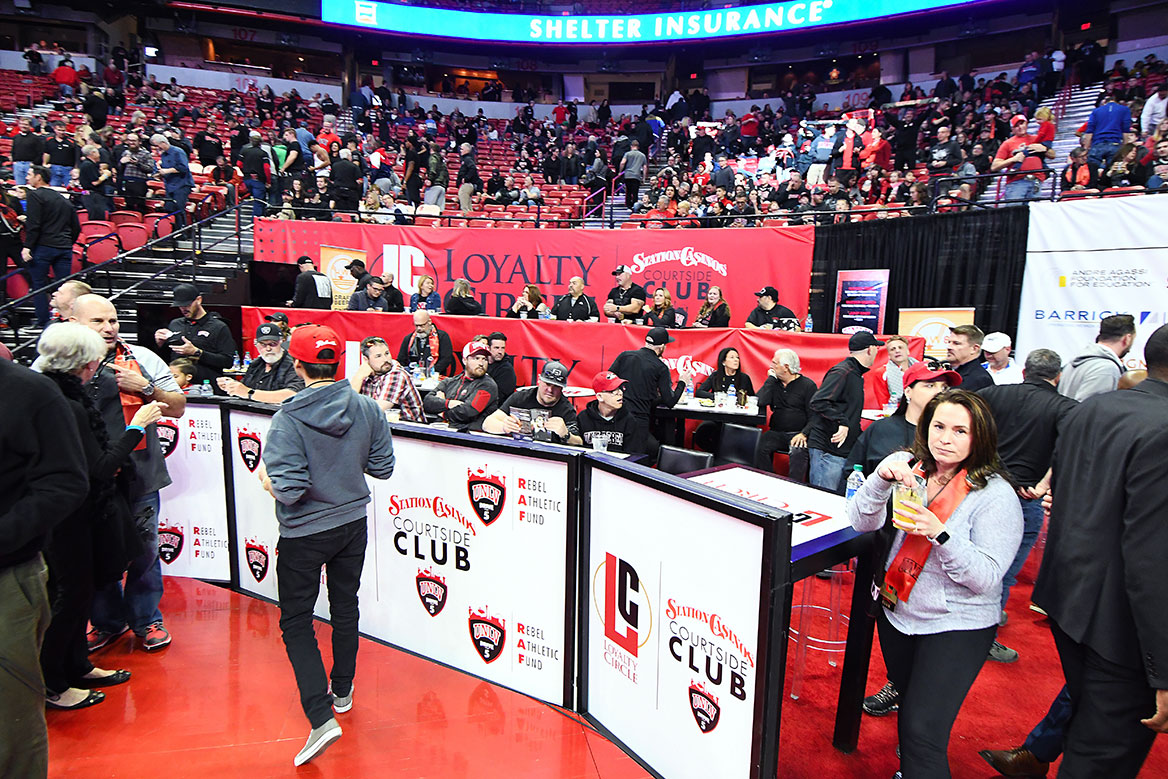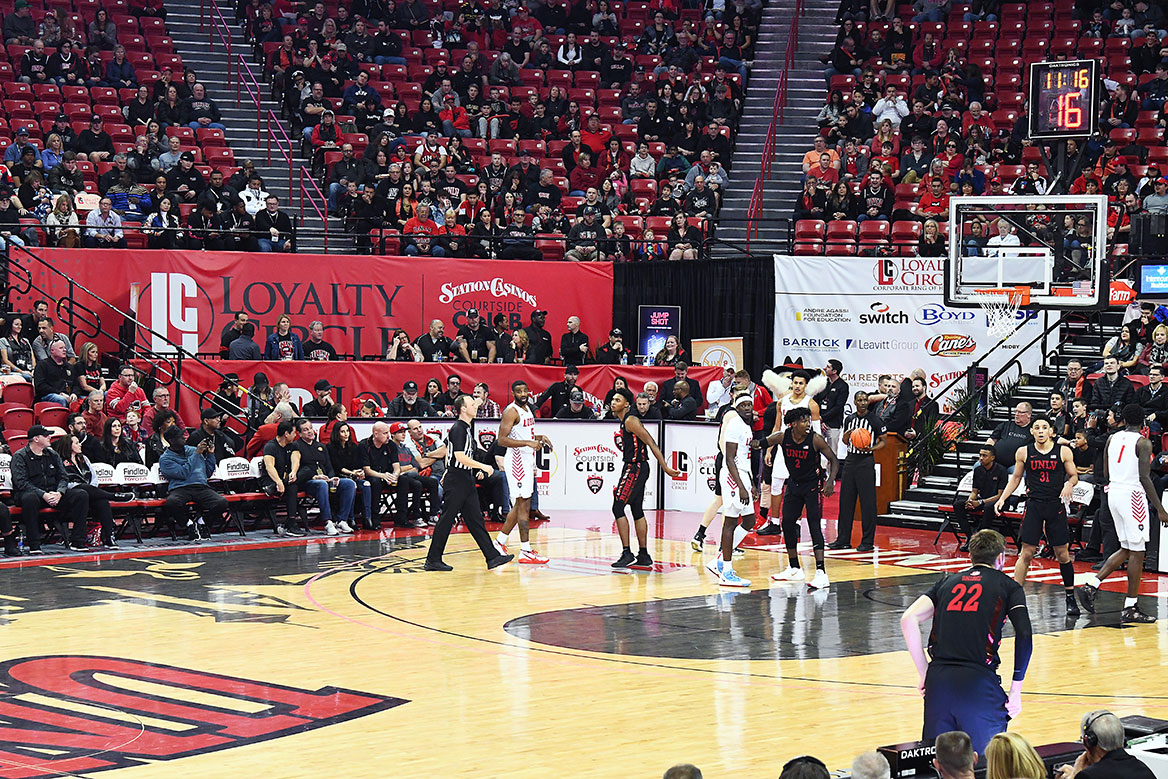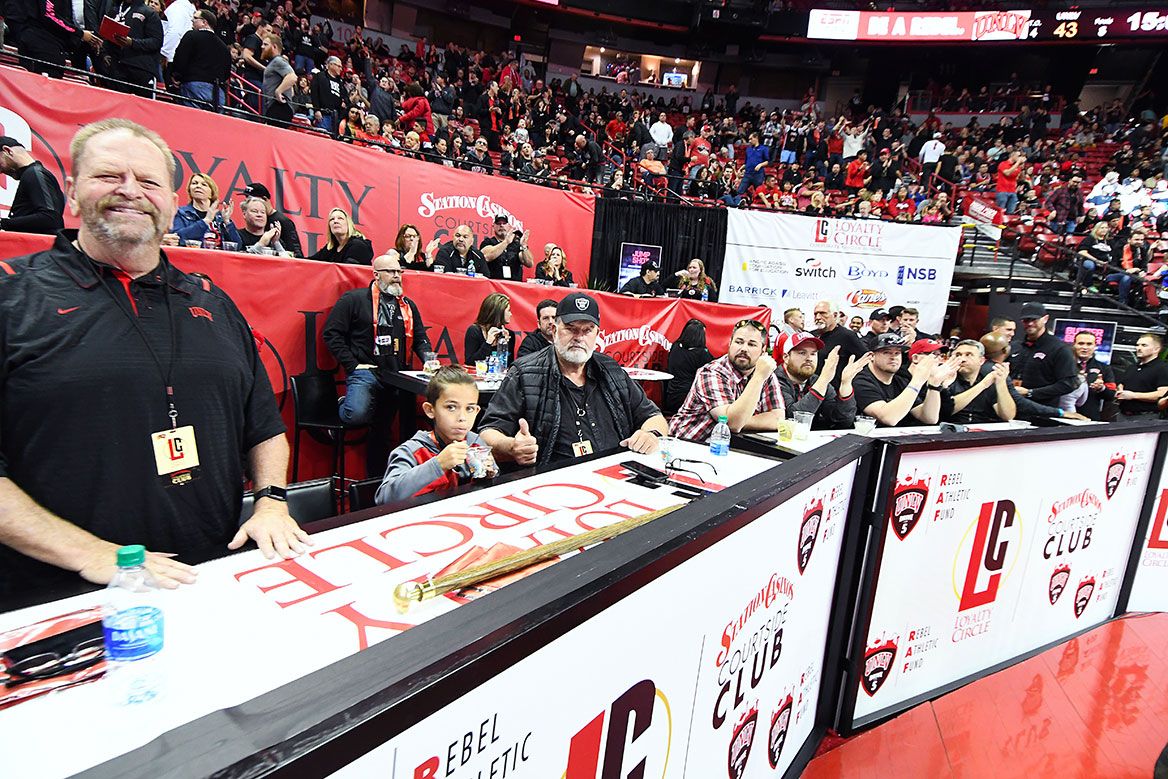 The Courtside Club features complimentary top-shelf beverages, food, and a court-level view of the action on the floor. Open to season ticket holders with seats in Lower Bowl 1 and Gucci Row, the Courtside Club provides one of the best experiences during Runnin' Rebel games.

Elevate your experience with premium seating at the Thomas & Mack Center
From courtside seats that put you in the center of the action, to luxury suites with top-class amenities, the Thomas & Mack Center has ample premium seating opportunities. More information.
PRICING
Area
Priority
Ticket
Total
Gucci Row*
$3,000
$555
$3,555
Lower Bowl 1*
$1,800
$555
$2,355
Lower Bowl 2
$1,200
$555
$1,755
Lower Bowl 3
$1,000
$555
$1,555
Lower Bowl 4
$850
$555
$1,405
Lower Bowl 5
$600
$555
$1,155
Lower Bowl 6
$325
$555
$880
Lower Bowl 7
$200
$555
$755
Lower Bowl 8
$50
$555
$605
Dugout 9
$325
$355
$680
Dugout 10
$175
$355
$530
RAF Balcony
$25
$255
$280
Balcony
N/A
$220
$220
End Balcony
N/A
$119
$119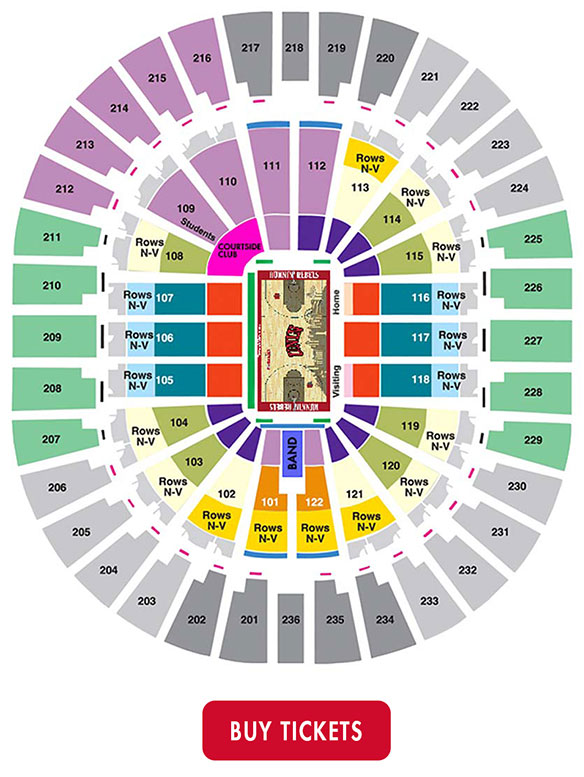 EVENT POSTPONEMENT POLICY
If for some reason our 2020-21 men's basketball schedule is impacted due to COVID-19, season ticket holders will have options to best fit their needs.
Event Postponement:
If an event is postponed due to factors beyond UNLV's control, tickets for postponed event(s) will still be valid for the rescheduled date.
If Runnin' Rebel Basketball is not able to be played during the current academic year, 2020-21 Season ticket holders will have the following options:
Apply your credit toward next basketball season
Donate the full ticket and priority credit as a D5 Momentum Fund gift in support of student-athlete success.
A refund on your ticket amount with your RAF priority donated as a D5 Momentum Fund gift in support of student-athlete success.
A full refund on your ticket and priority amount.
If any of these options do not work for our season ticket holders, we'll work with each account on a case by case basis to make sure we do what's right for each unique situation, including upon request, refunds granted for cancelled events. Fans who purchased tickets through a third party (StubHub, Vivid Seats, etc.) will need to contact the third party service provider for refund information.
MORE INFORMATION
Still thinking about Runnin' Rebel Season Tickets?
Complete and submit the form below and a member of the UNLVtickets team will get in touch.