Event Performances:
May 04, 2019 - 12:00 PM
May 05, 2019 - 12:00 PM

Ticket Prices:
P1 - $161.00
P2 - $141.00
P3 - $126.00
P4 - $121.00
P5 - $116.00
P6 - $101.00
P7 - $91.00
P8 - $86.00
P9 - $81.00
P10 - $71.00
P11 - $60.00
P12 - $66.00
P13/P14 - $56.00
P15 - $46.00
P16 - $41.00
*Ticket prices subject to additional fees.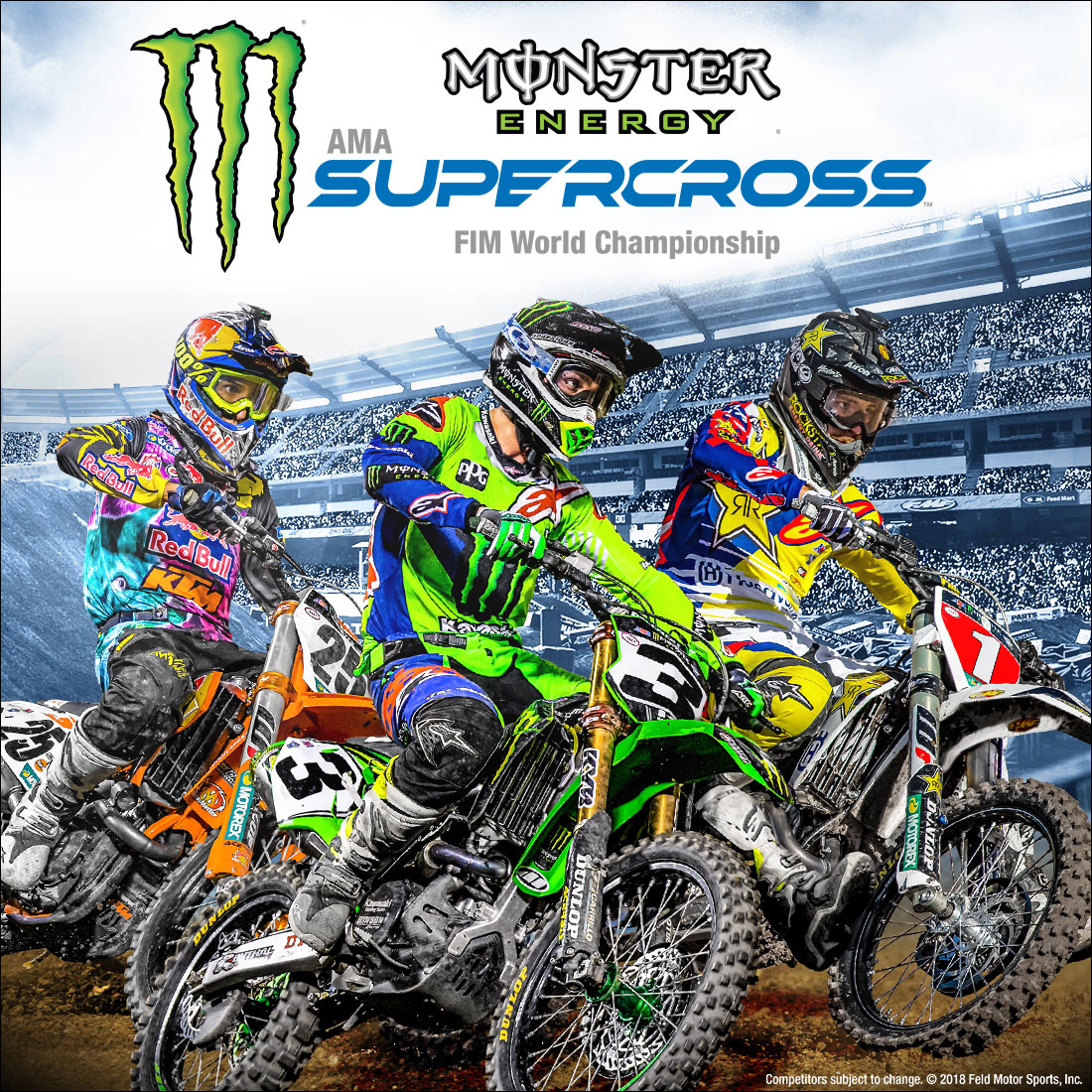 2019 Monster Energy Supercross
Don't miss your chance to experience the most competitive and highest-profile off-road motorcycle racing championship in the world. Part aerial excitement, part high-speed chase, Monster Energy AMA Supercross, an FIM World Championship, is comprised of 17 heart-stopping races inside the most recognizable and prestigious stadiums in North America. Every week, the greatest athletes from around the globe seek to outperform each other on custom-designed tracks in front of nearly one million live fans and broadcast to millions more worldwide. Featuring tight corners, fast straightaways, challenging rhythm sections, triple jumps and whoops sections, Supercross features the world's most talented endurance athletes and attracts some of the largest and most impressive crowds, visiting 13 different states in 2019.


2019 Supercross Futures
Supercross Futures, an AMA Amateur National Championship, is the official advancement platform of Monster Energy AMA Supercross, an FIM World Championship. The new series provides the world's fastest amateur athletes a chance to compete in the same stadium and on the same dirt as the elite athletes of Monster Energy Supercross while honing their skills in advance of their professional careers. With eight individual rounds taking place on Sunday in 2019, the ground-breaking concept will develop approximately 6,100 athletes across 26 classes inside the same stadiums and on the same dirt as the professionals in Monster Energy AMA Supercross, an FIM World Championship — beginning with 4-year-olds in the 51 Limited class, through the elite 250SX Futures class, which provides athletes with the opportunity of earning their 250SX Class Supercross license through the Road to Supercross.


2019 Supercross FanFest
SUPERCROSS FAN FEST PASS MUST BE ACCOMPANIED BY AN EVENT TICKET! The Supercross FanFest is a pre-race event taking place from 12:00-6:00pm. Ages 2 & up require a ticket.

There is no greater motorsports experience than the Monster Energy Supercross FanFest. The Supercross FanFest includes every professional race team, riders, interactive sponsor displays and more! It's an experience that gives fans an inside look at an array of products and the opportunity to get up close and personal with the stars of Monster Energy Supercross. Make sure to have your camera ready, because photo and autograph opportunities are abundant.