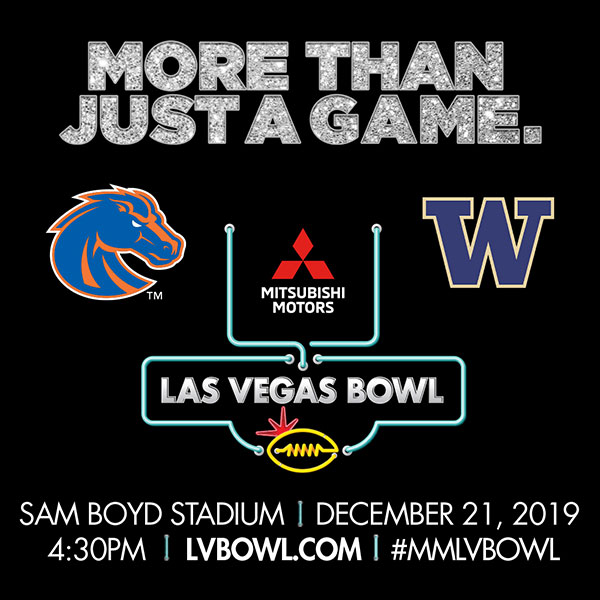 Washington to Face Mountain West Champion Boise State in 28th Mitsubishi Motors Las Vegas Bowl
LAS VEGAS (Dec. 8, 2019) – Creating the game's first rematch, Washington (7-5) will make only its second appearance here when the Pac-12 Conference representative takes on Mountain West champion No. 19 Boise State (12-1) in the 28th edition of the Mitsubishi Motors Las Vegas Bowl. The game will be played at Sam Boyd Stadium on Saturday, Dec. 21, at 4:30 p.m. PT, on ABC.

These teams faced each other in the 2012 Las Vegas Bowl when the Broncos downed the Huskies 28-26. Current Washington head coach Chris Petersen, who recently announced this would be his final game at the school, was head coach at Boise State in the previous meeting.

These programs have split four previous matchups overall with the most-recent coming in a 16-13 Boise State win in 2015. Boise State, which will serve as the home team, won all four of its previous Las Vegas Bowl appearances (2017, 2012, 2011 and 2010).

"It will certainly be a special Las Vegas Bowl this year as we feature a rematch of a great game played seven years ago and we'll also be saying goodbye to our home of nearly three decades, Sam Boyd Stadium." said Mitsubishi Motors Las Vegas Bowl executive director John Saccenti. "We welcome the Huskies and their fans back for the first time since 2012 and of course we have a wonderful history with the Mountain West champion Broncos and their unbelievable supporters."