2014 Lineup: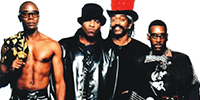 Cameo
An American soul-influence funk group that formed in the early 1970s. 1985's album Single Life, featuring the title track and "Attack Me With Your Love" continued the band's momentum, paving the way for what was to come the following year. The song "Word Up!" hit the radio airwaves in mid-1986. Critically acclaimed with large amounts of club and radio airtime, the resulting album Word Up! turned Cameo into superstars. The follow-up tracks, "Candy" and "Back and Forth" were also huge hits for the funk trio.
---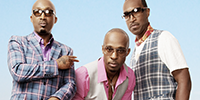 Tony Toni Tone
An American soul/R&B group from Oakland, California, popular during the late 1980s and early to mid-1990s. After making their debut with Who? in 1988, the group released albums to enormous success, The Revival and Sons of Soul,which gave them their greatest commercial success and was certified double platinum in the United States. Their first album, Who?, The album went gold and had several hit singles. The group's second album The Revival reached platinum status. The album spawned several #1 R&B hits with "It Never Rains In Southern California", "Feels Good", "The Blues", and "Whatever You Want" all topping the R&B charts. "Feels Good" was the group's first single to breach the Top 10 of the Hot 100 and managed to go gold.
---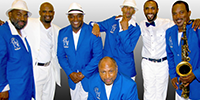 Con Funk Shun
An American R&B and funk band popular in the 1970s and 1980s. In 1976, Con Funk Shun signed to Mercury Records, releasing 11 albums over a span of 10 years. The group's 1977 LP, Secrets, was certified gold in the US, as were 1978's Loveshine, 1979's Candy, and 1980's Spirit of Love. They scored a string of top ten hits on the US Billboard black singles chart, including 1977's "Ffun" (#1), 1978's "Shake and Dance with Me" (#5), 1979's "Chase Me" (#4), 1980s "Got to Be Enough" (#8), and "Too Tight" (#8).
---
Lenny Williams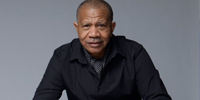 An American singer known for his work in the R&B and soul music genres. During the 1970s, he was the lead vocalist for Tower of Power. As a soloist, he made several hit recordings, including 1977's Choosing You and 1978's mega hit Cause I Love You. A string of hits followed, including "So Very Hard To Go", "Don't Change Horses (In The Middle Of The Stream)" and "Luvin You", written by Williams and Johnny "Guitar" Watson.
---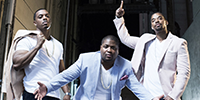 NEXT
An American R&B musical group, popular during the late 1990s. They are best known for their hit singles "Too Close", "Wifey", and "I Still Love You". Next's debut album, Rated Next, was released in September 1997. Their debut single, "Butta Love" became a top five (#4) R&B hit, while going top twenty (#16) Pop, in the fall of 1997. Their second single "Too Close" peaked at number one on both Billboard's Hot 100 an R&B Singles chart, the former for five weeks, and was named the number one song of 1998 by Billboard Magazine. Next's second album Welcome II Nextasy was released in 2000. "Wifey" (featuring Lil' Mo) topped the R&B Singles chart.
---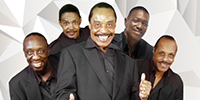 The Dramatics
An American soul music vocal group, formed in Detroit, Michigan, in 1962. They are best known for their 1970s hit songs "In the Rain" and "Whatcha See is Whatcha Get", both of which were Top 10 Pop hits. "Whatcha See Is Whatcha Get," which broke into the Top 10 of the Billboard Hot100, peaking at #9. Their first million selling disc "Whatcha See Is Whatcha Get" was awarded gold disc status by the R.I.A.A. in December 1971. The Dramatics were officially inducted into the R&B Music Hall of Fame at Cleveland State University's Waetejen Auditorium on Saturday August 17, 2013.
---
Ray Goodman & Brown
An American R&B vocal group. The group originated as The Moments, who formed in the mid-1960s and whose greatest successes came in the 1970s with hits including "Love on a Two-Way Street", "Sexy Mama" and "Look at Me (I'm in Love)". In 1979, for contractual reasons they changed their name to Ray, Goodman & Brown and had further hits, including "Special Lady" Before three of the original members of The Moments left. They recorded their breakthrough song "Love On A Two Way Street" (which reached #1 on the R&B chart and #3 on the pop chart in the spring of 1970). All Platinum also released a single recorded by Mark Greene entitled "My Confession of Love", with the flip side "I'm So Lost", on the Stang label.