One thing I've learned being in this business for over three decades is that things are always changing. And that is a good thing. There is so much energy right now within UNLV Athletics that I can't wait to get to the office everyday when I wake up. We have so many good people working hard for you to make your Rebels the best Rebels they can be. Here's a quick update about some of the things going on:


A REBEL COMES HOME

The Dave Rice Era with UNLV Runnin' Rebel Basketball has begun and we couldn't be more excited about the possibilities. Dave is a brilliant young basketball mind and a dynamite person. The players are really going to enjoy playing for him and will definitely enjoy his up-tempo offense - as will the fans. Dave's adamant about pushing the ball and getting the guys out in transition. His first addition of Justin Hutson to his staff is a great, great hire and we look forward to Dave filling out his staff over the next few weeks. Justin is regarded as one of the top recruiters in the West as well as a terrific defensive coach ... Off the court, Dave's also committed to using his role as head coach of the Runnin' Rebels to benefit the community. We all know how seriously Lon Kruger took that role and Dave has embraced that philosophy as that is the type of person he is. As Rebels, we'll always be grateful for what Lon and his staff did for this program and this city. They grew the program and left it in tremendous shape - and Dave appreciates that. Now it's Dave's turn. And I have a feeling he's going to be leading our Rebels for a long, long time.

For those interested in basketball season tickets, please call
(702) 739-FANS (3267) for more information. As Dave says, "Let's run."


GET YOUR RIB ON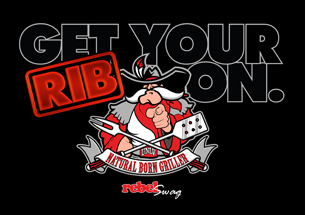 Please mark down Saturday, May 21 on your calendars to celebrate with the Rebels. UNLV Athletics has teamed with Smoke on the Water Productions to be a part of the Orleans USA Barbecue Championship at the Orleans Hotel & Casino. The event (which will be held May 21-22) will feature the world's best barbecue vendors selling their famous ribs, pork, brisket, chicken and other great eats at the Ribba-Ramma barbecue fest. The professionals will be vying for $125,000 in prize money.

However, you can also join in the competition and Get Your Rib On as part of the inaugural UNLV Ribba-Ramma amateur competition, created especially for the weekend warrior and backyard griller. For just a $75 entry fee, your team will be entered into the amateur competition on Saturday, May 21. Entry fee includes (3) three racks of ribs, (1) one bag of competition charcol and (1) one bag of VooDoo rub & spices.

Each team prepares three racks of ribs. Three bones are turned in for judging and the remainder will be offered to attendees who present UNLV Donor Cards, which can be purchased at the event. Besides being judged by professionals, there will also be a People's Choice Champion crowned by the festival attendees. All proceeds from the amateur competition will support UNLV Athletics through the Rebel Athletic Fund. For more information on registering a team, click here.

So now's your chance to see who's Nevada's Grilling Guru when it comes to the best ribs in the state. Or, just come on out to festival to enjoy great food, music and fun with fellow Rebels. Admission is free. Visit www.smokeonthewaterbbq.com for more information on the event.


HAUCK TEAMS WITH RICE IN TENNIS

This Saturday (April 23) morning, UNLV fans will have a great opportunity to support our men's tennis team by attending a fun exhibition doubles tennis match featuring head football coach Bobby Hauck and head basketball coach Dave Rice. The event is free and open to the public... Bobby and Dave will team together to face off against former Rebel standout and 1997 NCAA Doubles Champion Tim Blenkiron and one of his pupils, 10-year-old Jack Hambrook. Jack is the son of Owen Hambrook, who is in his eighth season as head coach of our men's tennis team.

UNLV senior star Mehdi Bouras will be honored on the court before his team's final home match against San Diego State, which will begin at 10 a.m. at the Fertitta Tennis Complex (just off the intersection of Swenson and Harmon). After the Rebels and Aztecs play doubles, which lasts approximately one hour, the exhibition match will be held. The exhibition will consist of one game to seven points. The Rebels and Aztecs will then re-take the courts for singles play.

Also, be sure to tune into Rebel TV on Cox Cable Channel 636 for a feature on Bouras... Hope to see you at the courts on Saturday morning. Should be a great day for Rebel fans! And a special thank you to Bobby and Dave for supporting our men's tennis program.


MWC CHAMPS!

Congratulations to our women's tennis team for finishing the season a perfect 8-0 in Mountain West Conference play for the second time in three seasons and securing the league's regular-season crown for the third time since the conference debuted in 1999-2000 (co-champions in 2003 and outright champs in 2009, 2011). Coach Kevin Cory's program has also won three MWC tournament championships during that time... The conference tournament begins next week in Fort Collins, Colo., and UNLV now sets its sight on becoming the first women's tennis team in school history to win both the conference's regular-season and tourney titles in the same season. Go Rebels!


KOELBAEK REIGNS

Two days after being named Mountain West Conference Women's Golfer of the Year, UNLV senior Therese Koelbaek captured medalist honors at the 2011 Mountain West Conference Championship... It was her first individual MWC championship as she tied the league record for largest margin of victory. She is the fourth Rebel to win the MWC's women's golf individual championship. The others were Sunny Oh in 2004, Elen Kurokawa in 2005 and Da Sol Chung in 2006... We are proud of Therese and her teammates, who took second place as a team in the championships.


GLOBAL YOUTH SPORTS DAY

Thank you to our nearly 50 student-athletes who participated in our Global Youth Sports Day Clinic on campus this past Saturday. These Rebels gave nearly 300 students from After-School All-Stars a thrill of a lifetime by hosting them on campus and conducting a sports clinic. All of those participating also had the opportunity to work with Special Olympians who participated in the clinic as well. It was a great day for this community!... Partnerships are the key to our success as we continue to grow our student-athletes academically, socially and athletically. Thank you to all those that make these partnerships possible.


OH NO, AGAIN

If you get a chance, check out UNLV Softball freshman pitcher Amanda Oliveto, who has already tossed two no-hitters this season. (In fact, they were pitched in consecutive games in late March and early April.) Oliveto is part of a strong core of young players for coach Pete Manarino's squad.


REBEL TV

Be sure to check out April's edition of Rebel TV on Cox Cable Channel 636. Some of the new features this month include a segment on the battle for the starting quarterback position in football (between junior Sean Reilly, sophomore Caleb Herring and redshirt freshman Taylor Barnhill), a look at Mike Moser and Reggie Smith (two of our redshirts this past season for men's basketball) as well as a Gameday feature with UNLV baseball senior Richie Jimenez.


CPR TRAINING THIS SATURDAY

The American Red Cross is inviting the public to attend a free Adult CPR Class on Saturday, April 23 at the Thomas & Mack Center. Called "CPR Saturday", the event will train 1,000 people in one day in the lifesaving skill of CPR...Two sessions will be conducted; one beginning at 8:30am and a repeat session at 1:30 pm. Each session is three hours. A two-year Adult CPR certification will be issued upon successful completion. Register at www.redcrosslasvegas.org or (702) 531-0237. Walk-ins accepted space permitting.

The Red Cross is pleased to be partnering with KLAS 8 News Now, UNLV Athletics, Community Emergency Response Team (CERT) of Southern Nevada, Nevada Recreation and Park Society (NRPS)-Southern Nevada Aquatic Committee, and Century Link.


NOTES

This year's Monster Energy Supercross Finals at UNLV's Sam Boyd Stadium on May 7 has been one of the best-selling finals in its history in Las Vegas. This is a great event for the community and UNLV... Junior right-handed pitcher Tanner Peters was named the Mountain West Conference's Pitcher of the Week in baseball on Monday. Peters is 6-2 this season. He has totaled 73 strikeouts against just 15 walks and is holding opposing batters to a meager .192 clip from the plate... Things are moving forward well with the Mendenhall Practice Facility for Runnin' Rebel Basketball. We are anticipating a late 2011 opening. It's going to be a great addition for Coach Rice and his program and we appreciate all those visionaries who are making the project a reality... Don't forget, the deadline for Rebel Athletic Fund renewals and UNLV Football season ticket renewals is May 20.


We hope you enjoyed this update about your Rebels and we sincerely appreciate all of your support for our programs and our nearly 500 student-athletes.

Get Your Reb On and have a GREAT Rebel day!


Sincerely,



Jim Livengood
Director of Athletics