We're so excited for this Saturday's Rebel Football Spring Showcase and "Get Your Reb On" apparel sale. It should be a GREAT day for Rebel fans on UNLV's campus. Below is more information on the celebration as well as some other fun things going on with your Rebels. We hope you enjoy this very brief update.


REBEL FOOTBALL SPRING SHOWCASE
Be sure to check out our annual football spring scrimmage this Saturday morning (April 2) at 10 a.m. at Rebel Park on UNLV's campus. (It is located just off the corner of Swenson and Harmon. We will also have shuttles taking fans to and from the Thomas & Mack Center parking lot.) The scrimmage is free to the public and we hope to have a great crowd out there on what should be a gorgeous Las Vegas morning. There will be concessions, activities for kids and giveaways. Also, a booth will be set up featuring more information on UNLV Now, the campus village and event center concept from Majestic Realty.
Also, coach Bobby Hauck, his staff and his team will be providing kids six to 12 years of age with a free football clinic on the field immediately following the scrimmage (at approximately 11:30 a.m.). It should be a great time for the family so we hope you come out and support your Rebels.


"GET YOUR REB ON" APPAREL SALE

Back by popular demand is our authentic new and game-used UNLV athletic apparel sale. The "Get Your Reb On" apparel sale is set for this Saturday (April 2) from 9 a.m. to 1 p.m. The public is invited to the North Gym inside the Paul McDermott Physical Education complex on campus that day when hundreds of items will be for sale at prices ranging from $1 to $50... We hope you'll come out, get some great UNLV athletic apparel and check out some Rebel spring football... Also, our softball, women's tennis and women's soccer teams will all be in action that Saturday as well giving fans a great opportunity to support a number of our student-athletes.


Rebel Athletic Fund success

We wanted to show you this graph took from another Mountain West Conference school's development brochure. It lists the number of athletic donors at MWC institutions.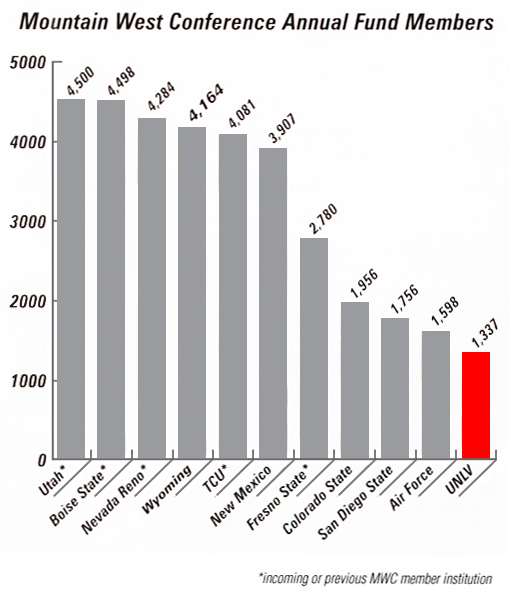 Yes, UNLV is in last place on the graph. That is the bad news.

Now here's the good news. This information is more than a year old. In the past nine months, we have already increased our number to over 1,600 members of the Rebel Athletic Fund and we intend to keep growing it. Thank you for stepping up to the challenge. That said, we have a lot of work to do - together - to get our level of support to where it needs to be for UNLV Athletics to maximize its potential.
And, particularly with the financial issues this state and university are facing, support from donors is going to be more important now than ever to help dictate the future of UNLV Athletics. If you or anyone you know is interested in supporting UNLV Athletics, please contact the Rebel Athletic Fund at (702) 895-1533. Our team behind our teams is ready and willing to help you help us.

For more information on the Rebel Athletic Fund, please click here to see a brief video we put together. Thank you.


Mountain West Conference survey

Rebels fans, can you please do us a quick favor?... Click here to go to a brief survey put together by the Mountain West Conference. All of us in the league are trying to get quality feedback from our supporters to find out more about ourselves and how we can all get better. It would mean a lot to us if you would take the time to complete the survey. Thank you.


Football season tickets on sale now

Do you have UNLV football season tickets? We are currently on sale with season tickets for the upcoming 2011 season featuring home games this year against such 2010 bowl teams as Hawaii, Boise State and San Diego State. We kept season ticket package prices at $185 and $100. In fact, we actually created a new Value Zone $75 entry level season ticket package this season in an effort to attract new fans to give Rebel Football a try. And, we even decreased the scholarship donation levels for priority seating options. Fans, we are doing everything we can to help prepare your football program for future success. When this program takes off under coach Bobby Hauck in the next couple of seasons - and we are positive it will - it is going to be a fun ride. We hope you make the investment with us and get involved now. Call 739-FANS or visit www.UNLVtickets.com today for more information on tickets.


UNLV All-American swimmers

"All-American" is a special term for a college student-athlete. And for the second straight year, the UNLV men's swimming team saw a relay earn All-American Honors with a top-eight finish, and a second relay also earned honorable mention All-American status at last week's NCAA Championships in Minnesota. Our 400 medley relay team of senior David Seiler, junior Andrew Morrell, sophomore Cody Roberts and senior Calan Eldridge tied for the best-ever finish by a Rebel relay at the NCAA Championships by placing eighth in a swim of 3:10.94. Their time of 3:09.06 in the morning preliminaries set a new Mountain West Conference record, breaking their own mark set earlier this season, and the eighth-place finish is the best-ever by a UNLV 400 medley relay. All four swimmers would also earn Relay All-American honors thanks to the top-eight finish... Swimming the 200 free relay, UNLV posted a time of 1:18.75 in the event to finish in 14th place, the second straight year the Rebels have finished 14th in the event. Swimming on that relay was junior Steven Nelms, Roberts, junior Charlie Tapp and senior Kyle Virva, and they would receive relay All-American Honorable Mention status.... Overall, UNLV finished 19th in the nation. Great job, Rebels!


Women's Tennis Campus Kids' Day this Sunday

UNLV women's tennis will be hosting a Campus Kids' Day in conjunction with the team's final home match of the season this Sunday (April 3) at the Fertitta Tennis Complex on campus. The Lady Rebels take on Air Force beginning with doubles at 10 a.m.. Admission is free of charge and a free pizza lunch will be served while supplies last.

Following the match, all junior tennis players who bring their own racquet will be invited to take the courts for instruction and drills from the UNLV women's players. It's another great way to Get Your Reb On with your family.


Thank you for your continued support, Rebel fans. Together, we can do great things here. Have a GREAT Rebel day and GET YOUR REB ON!


Sincerely,




Jim Livengood
Director of Athletics